Editor: Charlotte Volper, Eric Holstein and Jérôme Vincent
Title:
69
Genre: Anthology, science fiction, erotica
Publisher:
Les 3 Souhaits
First Published: November 2009
Pages: 165

Table of Content
Stéphane Beauverger,

Eddy Merckx n'est jamais allé à Vérone


Maïa Mazaurette,

Saturnales


Daylon,

Misvirginity


Mélanie Fazi,

Miroir de porcelaine


Francis Berthelot,

LXIX


Sylvie Lainé,

Toi, que j'ai bue en quatre fois


Norbert Merjagnan,

Louise ionisée


Gudule,

Sabbat


Charlotte Bousquet,

Les Métamorphoses d'une martyre


Jean-Marc Ligny,

Vertiges de l'amour


Virginie Bétruger,

Descente


Joëlle Wintrebert,

Camélions
Science fiction and erotica... um... plenty to cover here.
When I first heard about this anthology, I was pleasantly surprised by two things. First, this is a French anthology that contains first-time published stories by some classic science fiction French authors (Joëlle Wintrebert and Francis Berthelot), some well-established young writers such as Mélanie Fazi, Stéphane Beauverger (whose wonderful novel
Le Déchronologue
I
reviewed
a while back), Charlotte Bousquet and Sylvie Lainé, and some not entirely unknown newcomers (Norbert Merjagnan, Virginie Bétruger and illustrator Daylon).
Second, this anthology is the remarkable work of a small independent house,
Les 3 Souhaits
, which is the editorial offspring of the science fiction news website
Actu SF
. I
reviewed
one of their titles,
Le Guide des Fées. Regards sur la Femme
[A Guide to Fairies.
A study of women] last year and they really deserve to be cheered for their original and thought-provoking work and ideas. I hope they will soon have the chance to be more widely distributed. At the moment, the only way to get a hold of their books is through their website or at conventions.

As it always the case with anthologies, some stories clearly stand out and that selection tends to vary from one reader to the next. IMHO, the one which belittles all others is Joëlle Wintrebert's 'Camélions'. For a long time, Joëlle Wintrebert was France's only female science fiction writer, and I'm ashamed to admit that I've never read any of her novels though I have her novel Pollen (Au Diable Vauvert, 2002) in my to-read pile(s)... somewhere.

'Camélions' is about a human colony which gets stranded on a hostile planet and one woman who will bring down barriers and taboos, and dare make contact with the local population (who resemble human-size butterflies) at the risk of being shunned by her peers. It's a powerful and sensuous story about survival, love and betrayal. And now I really need to unearth Pollen and get to it sometime this year!

The other two stories which stood out for me were Maïa Mazaurette's 'Saturnales' and Mélanie Fazi's 'Miroir de Porcelaine'.

Maïa Mazaurette is graphic artist, writer and blogger most well-known for her blog Sexactu. I had the opportunity to meet her at the Salon du Livre in March and not only is she lots of fun to be around, she also does the neatest signings: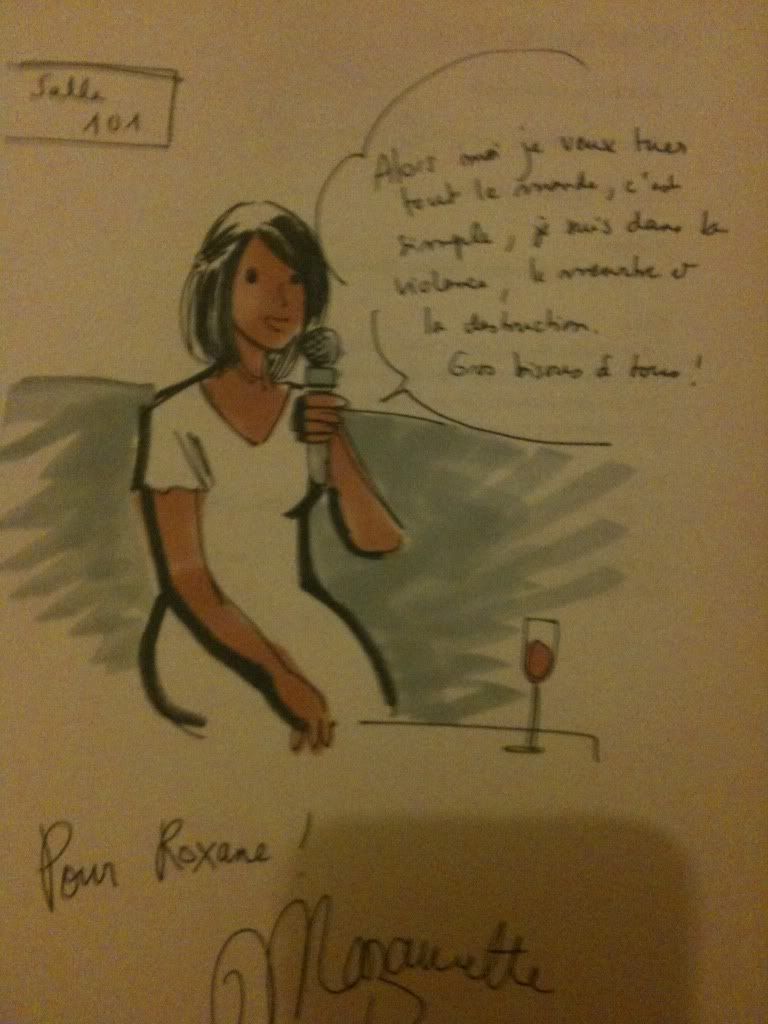 Yep, that's what I got when I bought her novel
Rien ne nous survivra
(another title which needs to make it in my read pile this year!).
'Saturnales' takes place in a future in which sex, and especially first times, is carefully planned and involves so many artifices that there is little to nothing natural about it anymore, but pleasure is guaranteed. It's filled with the stingy humor that characterizes Maïa Mazaurette and will leave you half-smiling, half-horrified.
Mélanie Fazi
ranks among my favorite short story writers. I read her short story collection
Notre-Dame-aux-Ecailles
about two years ago and while I had an overall uneven impression, I simply adore her lyrical and poetic style. Really, she could be retelling this morning's news that I would still find it fascinating. She is also a very talented translator. She got the Jacques Chambon award for Best Translation for her work on Graham Joyce's
The Facts of Life
(French title:
Lignes de Vie
which I reviewed
here
). FYI, some of Mélanie Fazi's works have been translated in English and appeared in
The Magazine of Fantasy & Science Fiction, The Year's Best Fantasy & Horror and The Third Alternative for those you who would like to check it out.

'Miroir de Porcelaine' is a dreamy (bordering on nightmarish), sensuous tale of lovers drawn apart by robots created for an artistic purpose. Well worth your time, and it won
the Masterton Award 2010 - Best Short Story category.
I think the only thing lacking from this anthology is perhaps a compilation of short author bios because such an anthology could really appeal to non-genre readers who know nothing about these writers. Overall, a wonderful initiative and a thought-provoking result that I highly recommend.
Current Location:

France, Orléans

Current Mood:

bouncy

Current Music:

Naruto Shippudden OST